Frosty Oak Top Secret
"Bryce"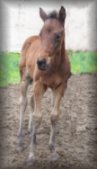 Bryce is a 1/4 Cleveland Bay-3/4 TB colt. He is by the champion partbred CB stallion All Eyez On Me out of a tb Bold Ruler
bred event mare, Secret Don. Bryce has a long athletic stride, big sloping shoulder, huge hip. Will make an awesome, event, dressage or jumping horse. Friendly and imprinted. Price is $5,000 American now before weaning, foaled 3/15/02. Located in Pennsylvania USA. Dam is for sale bred back to same stallion for 2003 ($4,000) email: maria@frostyoaks.com
Frosty Oak Calculated Risk
"Belle"

Belle is a lovely correct filly by the champion CB partbred
stallion, All Eyez On Me and out of a very athletic correct percheron cross mare, Acceptable Risk. Belle was foaled 4/26/02 and will be $5,000 American before weaning. Her full brother who is a yearling is a 10 jumper. Belle looks to follow in his shoes. She is friendly and well balanced. Will make someone an excellent dressage, event, jumping or field hunter. Will mature around 16.2.Located in Pennsylvania USA. email: maria@frostyoaks.com

Frosty Oak Skye Eyez
"Aaron"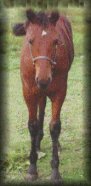 Aaron is now a yearling. By the champion CB partbred stallion
All Eyez On Me, out of an athletic perch cross mare Acceptable Risk. This colt is stunning. He is a 10 jumper over fences, natural, classic style. Has a floating trot and big canter. Well balanced and correct conformation. He is the deal of the barn. Super friendly, trailers, stands for vet and farrier, just gelded. He wants to be a jumper, hunter, event or fieldhunter, though he has the movement for dressage also. Get him before I decide to up his price! Only $5,000American. Full weanling sister available will make a deal on the package of two or those interested in a team for driving.Locatd in Pennsylvania USA. email: maria@frostyoaks.com

Enter subhead content here