Wrinkle In Time

Gorgeous black yearling filly with chrome. Double registered Oldenburg VhW and Trakehner. Registered in the ATA Fututiry, purse is currently $20,000. An excellent amateur 3-day, dressage, and/or jumper prospect. Flat enough movement for a hunter. Price is $9500 American. Located in Merced, California USA.email: dannielee3@yahoo.com

Lowenherz

Oldenburg colt born 5/7/02, gorgeous bay with whitestar and two left socks, by Landwerder out of an approved MMB TB mare. All previous foals by this mare are champion registered Hanoverians. Excellent conformation and disposition, F,G, and L bloodlines. Price is $6000 American (subject to change after inspection and weaning) Located in Merced, California USA. email: dannielee3@yahoo.com

First Champayne

AHS filly, bay, two left socks, born 5/11/01. Gorgeous movement and attitude with an impeccable pedigree. Her sire was sadly euthanized May 2002 due to a breeding accident. Irreplacable bloodlines, F and G main performance lines. price is $9500 American firm. Located in Merced, California USA. email: dannielee3@yahoo.com

*Weiße Obi

Vee is a stunning filly. She has white stockings up to her knees and hocks all around, and a large even blaze. She was bred with dressage specifically in mind, and she will do well there. She has nice large gaits and is put together well. Easy to work with, very sensible. Leads, gives to pressure, bathes and picks up feet. Will also load and tie before weaning. Mature about 16h. Eligible for registration with multiple registries. Dam is also bred for jumping, which Vee may show an interest in as she gets older. Reasonably priced for such high quality! Located in Milton, Wisconsin USA.email: tcefrei@ticon.net

Argentina
Foaled on June 9, 2002, this tall leggy filly is very unique with her tobiano colouring and her incredible temperament. Argentina is growing up to be a very elegant filly with floating movement, athletism, and incredible presence. Argentina's sire is Fuhler I who is an imported registered Dutch Warmblood (KWPN/CSHA) stallion by Samber (also sire of Art Deco). Samber is a grand prix level dressage horse and Z level jumper in Europe. Samber is ranked in the top 15 stallions for producing dressage horses in Holland (out of over 400 stallions) and in the top 100 for producing jumpers. Samber is by Pericles by Relic by War Relic by Man'O War. Argentina's dam Chelsea is by Two Time Bruce and her bloodlines include Princequillo, War Admiral and Man O'War. She is a registered tb/CSHA elite mare. Argentina will be CSHA registered and will make an incredible dressage or jumper prospect with her natural athletic abilities, breeding and very unique look. Price is $8000 American. Located in Ottawa Ontario Canada area.email: sandra.deakin@windycreekfarms.ca

Cassie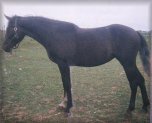 Elegant steel gray Saddlebred Percheron cross filly. She is an excellent draft cross type and is a very nice mover, built uphill and has a great neck set. She would be super in the dressage ring or as a fancy driving prospect. She has an easy and friendly manner and is a big clown. She will mature at about 16.2h. She just turned 2 and has been lightly started this fall with ground work and introduction to tack etc. She is an eyecatching horse. I have several of these crosses on the farm and they are a great sport horse type for a person with a budget. Price is $3000 American. Located in NorthCentral Pennsylvania, USA email: follyhil@epix.net
Gryfalcon

2002 Hannoverian/Paint Cross! This boy will be big, athletic and beautiful to boot! If you are looking for a Sharp Sport Horse and are on a budget, email today! Price is $5000 American. Located in NorthCentral Pennsylvania, USA. Email: follyhil@epix.net
Willa
"Willa" 2002 Chesnut with white Oldenburg filly by Werbellin. Grandaughterof the "King of Dressage", Weltmeyer. Moves with suspension and has anadorable friendly personality. Has the brains and the ability to be a a top level dressage horse. Her dam's brother sold for over $100,000 as a 6 yearold. $7500.00 US with special consideration given to a competitive rider. Newnan, Ga 770 301 4391 or email juliebh@mindspring.com .

Waps Ace Man
SOLD

Ace is a solid black yearling warmblood/appaloosa colt. Should finish at 16 hands. Registered with the APHC non characteristic. Pending registration with Appaloosa Sporthorse Assoc. Ace is a beautiful mover , very sweet & trainable, full of spunk and can jump(jumped a 4 foot fence from a standstill!) when being weaned. His sire is Wap Spotted(app warmblood) and is being shown in hunter jumper and dressage. Dam i s16 hand appaloosa shown at halter. Price is $2500 American. Located in Alabama, USA. email: holleyke@bellsouth.net

2003 Colt

Bay Swedish/Dutch warmblood Colt. April 2003. Both parents approved ISR/Oldenburg Registry. He has very Correct Conformation, Exceptional Movement and a Wonderful Loving Personality. He Leads, Loads, Clips, Bathes and stands for the farrier. You may name him. Additional photos of him and both parents may be viewed by clicking photo above. Price is $6000 US. Located in Florida, USA.