(Click on photos for the link!)
Spotacular Tiffany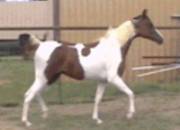 Half Arabian Pinto Filly! Tiffany's sire is the Color of Fame son, Spotacular Fame. Her dam is a wonderful moving Aladdin bred granddaughter. She is stunning. Tiffany will mature every bit of 15 hands and probably taller. She is a two year old and just an excellent filly all around. She is a real sweetheart with a lot of energy. Not a mean bone in her body but would probably need to be handled by a person who has experience with horses. She is sweepstakes nominated and will make a great halter/performance/broodmare. She is extremely refined, has great legs and feet, is short in the back, and her body is very smooth and correct. Tiffany has a long elegant neck that comes out of her shoulder just right and a long croup and hip. She has a pretty head and great ears and is marked just right. She has one blue eye set in her dark face but it isn't unattractive, at all. She is great with my two, two year old fillies in the pasture and they are stalled at night. Tiffany is a top quality filly who needs to be shown. Price is $3500 American. Located in Collinsville Texas USA. email: surmok@aol.com
Bee A Star
Sold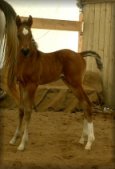 McBride Maple Lane wishes to announce the arrival of a 2003 Bay colt with 2 matching back stockings and a large star. Sire is Ibn Bee and dam is a paint mare, Diablos Siera Dawn. Full brother(bay/white) can be seen on page 1 in Half Arabian Section (first photo at top of page). These quality colts have been selling fast. Call for pricing. Located In Ontario Canada. Email: amberlysa@hotmail.com
Kholbly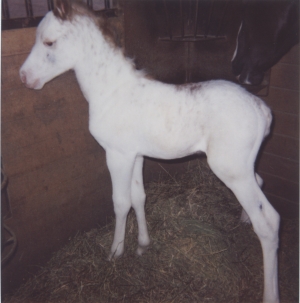 Here is "Kholbly" a half arabian sabino (overo) colt. Sired by R KHASPER and out of a black Quarter Horse mare. He is VERY rare in that his color comes from his purebred Arabian side and not the "other" half!! He will be an excellent performance horse. For sale.email: pegasus@uslink.net
MIDNIGHT SERENADE

Black Arabian/SWB Sport Horse Filly. Born Feb 2003. Both parents approved by the ISR/Oldenburg Registry. This Filly has the best of both breeds. The Arabian influence is very evident in both Appearance and Temperament. The Warmblood influence will be her size and movement. She Leads, Loads, Clips, Bathes, and stands for the farrier. Both parents and additional photos may be viewed by clicking photo above. Price is $6000 US located in Florida, USA.
Canadian Gold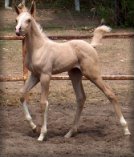 7/8ths Arabian golden palomino filly with stockings & strip. Upright, long-legged 2003 filly. Animated trot with flag tail, melt-in-your mouth sweet disposition, well trained for her age. Should mature over 15 hands. $5000 US. See her and our other palomino Arabians by clicking photo above or call 715-592-3602 (Stevens Point, Wisconsin)
Stars Triad of Colors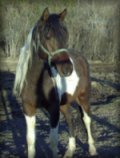 Maverick as we call him is a double registered Arabian Pinto colt. He is a proven halter champion already. The first time out he acted like he had done it a million times and every time out since then he is still in the blue ribbons. We have kept this colt in tact (stallion) as he has such beautiful Arabian type. He has height, substance, and gorgeous color that may be of interest to someone. He has a loving disposition. He is very early to handle, he loads in a trailer with ease, good for the farrier and his baths. His sire is a multi-champion stallion even in the all-breed circuit. Price is $5500 US. Located n Upper Michigan. Please call (906) 942-7721 or email porticea@aol.com.....or check us out on the web by clicking photo above.
Oshquanazzi

Foaled 06/22/03...15/16(93.75%) Arabian Pinto Colt..Grey(ch) Tobiano..IAHA Breeders Sweepstakes Nominated. Sire PTHA Supreme Champion, Oshquah. Dam is grey, athletic purebred Arabian, Egyptian/Russian/Crabbet bloodlines, with Western, Reining and Hunter Pleasure show credentials. Oshquanazzi was imprinted at birth and is extremely friendly and inquisitive, quick learner. Registration pending IAHA and PTHA. Price is $2500 US. Located in Nacogdoches, Texas USA. Email: dewolf@inu-net
Neros Fero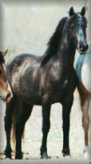 Half Arab/Friesian born 03/05/2001. This Guy has a LOT of Potential! As he got the Best of Both Breeds, Movement,Size & Power as well as Stamina & Endurance! Lots of Mane and Tail.
He has had 90 days of driving earlier this year and drove single the last 1 1/2 months of training on dirt and tar rds and Never flinch to traffic including over a dozen Harley's passing by! Fero is a Quick & Eager Learner and well-mannered for leading, grooming, farrier, vet, ties, clips, loads & hauls well. Fero is 15.1 at 2 1/2 and should mature around 15.2-16h. He has Unlimited Potential! Price is $4800 US. Located in North Branch, MN USA. For more info and pictures e-mail at aimhigh@cornernet.com or call 651-583-3227 (central time)
In Utero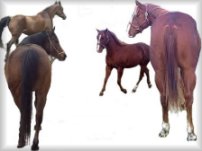 Sold to a National Level Dressage Rider!
Quarab foal due in late June,early July 2005. The dam has Prince Hallany,Ego,Bask all on her papers and is Warmblood Approved..the sire is a reg QH with The Clue Connection,Obvious Conclusion,Coys Bonanza,three Bars and many more within the first 5 lines of his pedigree. The resulting foal from this sire and dam will be spectacular! Should excell in many disciplines from reining to halter to jumping. Price if bought before weaning: $1800, goes up to $2500 when weaned.Located in Kingston,Ontario,Canada. Sire and Dam can be veiwed on website - http://meanttobefarm.tripod.com Contact:Angela Marks - (613)374-5383
Diablo Bee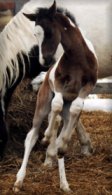 Half Arabian bay/white Pinto Gelding For Sale..Sire : Black Arabian, Ibn Bee..Dam: Diablo's Siera Dawn, QH/Paint..Born March/05..Siera has given us some knockout HA geldings and this one is just as good..Sweet and full of life..Located in Ontario Canada..Price $3000..go to http://www.amberleaequestrian.com for more foals to choose from..email: amberlysa@hotmail.com