(Click on Photos for the Link)
2006 Selle Francais Filly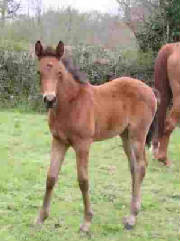 born Mar 23/06... top maternal selle francais lines for show jumping!!..out of Narcos II stallion and maternal Thurin line..click on photo to go to very detailed webpage on this filly.
2006 Selle Francais Filly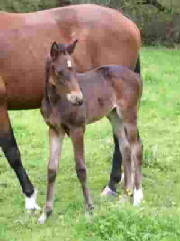 born Apr 15/06...out of Narcos II andmare of the top maternal Ardent/Olga...click on photo for detailed webpage on this filly
Savannah LBA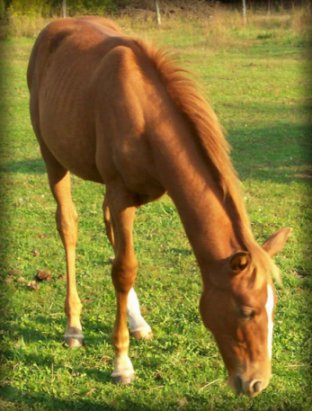 Savannah LBA, by Scimitar v. Silvio o/o approved Holsteiner mare Forthefunofit (Con Brio). Very nice filly, very athletic, registered/branded Rheinland Pfalz Saar International with full papers. She is very people oriented, very bold and very friendly. Super gaits and bred to jump. Attended the biggest fair in the Northeast with over 350,000 people and just loved all the pats, pokes, prods, hugs and kisses! A real superstar. Dvd available. $8500 US. www.lazy-b-acressporthorses.com
Spotted Warmblood Sport Horse Filly
This filly has been imprinted since birth.She is handled daily.Her sire is 17+ hands. Her Dam is 16 hands.She should mature to 16+ hands.Both parents have very good conformation and super dispositions.These attributes have been inherited by this filly.She has a good mind,bone substance and conformation.This is a solid filly.UTD on vaccines.Stands well for vet and farrier.Ground work done.Finish your way. Good prospect for: hunter, jumper, dressage, eventing, driving, trail, pleasure. Asking $2,500 US. Located in New Hampshire USA Click on photo to go to website for further details..
Ballerina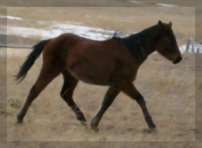 Gorgeous Warmblood filly~What a looker and what a mover! This fabulous filly is by the German import "Barleone" FIRST PREMIUM PREMIER rating with an 8.9! Judges comments included "Excellent young stallion with good natural balance and gaining in confidence. Superb carriage and elasticity and enough suspension. Excellent attitude and work ethic."
"Ballerina" is out of an AWR approved, First Premium rated AQHA mare. All the potential in the world. This mare and filly were inspected after a bout with strangles: Ballerina scored 7's with comments such as "Good Sporthorse Filly" and "Good pasterns" and "Puts legs well under herself at all gaits" by Sonja Lowenfish. With the tremendous future of Barleone, this filly is well worth the asking price, daughter has changed directions with her horses. View our site for a link to Barleone.

Located in Montana, USA. Asking $5000 US. Email

cisco@3rivers.net

Click on photo to go to website.
RJoy
"Romulus" is the second approved son of Dreamtime Farm's stallion, "Regulus", several times the #1 Stallion in the US for Dressage Sport Horse Breeding (USEF). "Regulus" is a son of "Rapport" out of "Chris Tina" by "Franat" from the Ladykiller bloodline. "Regulus" is the sire of: "Roi Soleil D", the 2002 USDF Horse of the Year. "RJoy" was very ill with strangles at the time of her inspection, yet still scored 7.2 with the comment "Good, feminine Sporthorse", with "Good shoulder, correct length and slope" by Sonja Lowenfish. This correct filly has a tremendous future ahead of her, don't miss out on the opportunity to own her now, daughter has set off in a new direction-must sell NOW! View "Romulus" on our site.

Located in Montana, USA. Asking $3900 US. Email

cisco@3rivers.net

Click on photo to get to website.