Welcome to our web site!

On this home page we would like to present to you some of the finest colts and fillies from around the globe!
We are excited that you are visiting our web site! Buyers: Do you love watching the new foals arriving each year?? Do you have a keen eye for future stars?? Have you found yourself surfing the net for that perfect colt or filly? Sellers: Are you sure that people will find your precious foal that you have listed for sale on your website?? I have noticed a need for a "one stop shopping" website for foals only! Come and view our ever expanding database of all breed, all photo, equine babies. Don't let your foal be passed by. List today!
Focusing on Colts/Fillies ages three and under. Newest Adds in the directory can be found on the last page of each section. **Most recent add also gets a spot here on the front page!**
Aeronca Cloud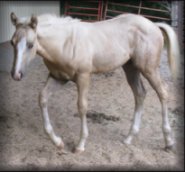 Fancy quarter horse colt from good bloodlines. 2xPeppySanBadger, Driftwood, Lena. Vet checked. Smart, healthy, strong and growing. Ready for shipping. Serious inquiries contact for more info

flyingfoxfarm@hotmail.com

. Reasonable offers considered. Located in South Carolina , USA. Thank you.
Click on the "Add Foal" section at top left hand side of page for instructions to join in!